Roy Rogers Memorial Festival
Portsmouth, Ohio 2004
'Happy Trails…'
"Some trails are happy ones
Others are blue…

It's the way you ride the trail that counts;
Here's a happy one for you!"
A personal report by Amy Mintzer
Beta readers Carol, Moira and Rachel
I had my doubts at first. An eight hour and three minute 'trail' ahead of me to spend perhaps, at most, a few minutes with our beloved hero, Mr. Robert Fuller. Crazy.
I'd never heard of Portsmouth, Ohio before. It's location? Incongruous to my original estimation of a 'stone's throw' from Pennsylvania, it's nestled tidily along the Ohio River, which is, instead, a stone's throw away from northern KENTUCKY! And, yes Y'all, it IS considered to be in 'The South."
Why Portsmouth, Ohio? It's boast to Roy Rogers or Leonard Franklin Sly encompassed his life from the age of eight until his westward excursion in 1930 to live and work in California as a truck driver, fruit picker, and western music singer. (FYI –I learned this at the Festival. Country music is singin' about your neighbor's wife. Western music is singin' about your neighbor's horse.)
Without getting too deep into Mr. Roger's biography, his velvet voice and clean-cut appearance swept him into America's spotlight and gilded him there in memory as one of the country's cowboy legends. One landmark reads…"Boyhood Home of the King of the Cowboys."
So…I'll tell you what I missed.
Thursday night (my daughter Lindsay's high school graduation), there was a welcome mixer where the members were 'encouraged' (like anyone would need any prompting) to mingle with the stars. The stars attending: Kim Darby (True Grit), Steven Kanaly ('Dallas', Ray), Stella Stevens (General Hospital) Andrew Prine, Heather Lowe, Russ McCubbin, and of course (drum roll, please….) Robert Fuller.
Also in attendance were Cheryl Rogers Barnett, (adopted daughter of Roy and first wife, Arlene) and "Dusty" Rogers (Roy Rogers junior, son of Roy and first wife Arlene, who died in childbirth).
Friday (travel day), I missed a question and answer panel along with a Luncheon with the Stars. Then in the evening there was a reception by the indoor pool with entertainment by the Carter Sisters; three multi talented ladies playing a mandolin, steel guitar, and keyboard, singing with pristine harmony.
That's what I missed.
When I arrived, Friday evening around ten o'clock, the remnants of that particular function were winding down. The first floor lobby had full view of the ground floor tropical pool so after checking in, I walked within a few steps of the glass to have a look at the pool area. I didn't recognize anyone…thankfully. I'd just driven eight and a half hours-- stopped for gas and necessities twice---and every mile (construction included) was clearly etched on my ragged exterior!
I wrangled into the hotel's elevator, trundled down the corridor and dropped my bags in the room. Relieved? Not really. I just had this feeling that Mr. Fuller wasn't going to be there or I'd wake up to find he'd left early…or some such business. The idea had worked on my nerves a bit. So, I went to the bar— very uncharacteristically –and purchased a calming beverage to take to my room.
It took me a while-- four episodes of comedy TV –but eventually I felt myself begin to wind down from the trip as my pores began to absorb the room's stale cigarette smoke. (Harmonica cue: Play 'em if ya got 'em! Fade to black….)
**
SATURDAY!! June 5th, 2004. Final day of the Festival. Looking out my hotel window, I could see that a few people were leaving already. One cowboy had his boots lassoed to his luggage instead of wearing them on his feet! My nerves were in knots. Would Mr. Fuller be there? (Again, this was a tiny town. The portion of population that wasn't in attendance at the Ramada had migrated about five miles outside of town for a colossal 'swap meet'—a.k.a. 'Flea market' to all of us Yankees.) I pressed THE elevator button and waited.
The doors opened. Surprise! (I couldn't have scripted this better myself—well maybe I'd have written in at least one cup of coffee first. However….) Jaws dropped open –for a brief time. He was the first to recover. "Well, my God, what are you doin' here?"
My own thoughts, 'You know I was thinkin' that same thing?'… left me that same instant I heard the familiar voice and recognized the handsome form that owned it.
"What do you think?" I hopped into the crowded metal carton as he placed an arm around my shoulder. "I came for the swap meet." The day just got better.
"Did you just get here?" I think that's what he said.
"Last night." I think that's what I said.
"Last night?" I think that's what he said.
"Late. About ten o'clock." I think that's what I said.
"Oh…how long of a drive?" Something like that.
"Six hours." Sounds better than eight or nine-- and in an elevator full of people, right?
"Six hours." The smile that crossed his features lead me to believe that he was touched that somebody would actually do something like that just to spend a little time with him.
"Well…maybe closer to nine hours—or so." Something like this.
"You're crazy." Exact words here. I remember him saying this.
"Yep!"
He laughed. Bling! Ground floor.
**
As a security provision, the stairs could be accessed from the inside only; exit doors in the stairwell would lock automatically preventing re-entry from the outside. I'm usually inclined to take the stairs, but having only one single elevator for transport in this event proved to be an advantage. One elevator ride had me chatting with Mr. Kanaly—a lovely articulate gentleman. Still another time the doors opened to reveal it's cargo, which included the Lone Ranger and two John Wayne look-alikes! " I love this place!!"
The celebrities were available in the dealer/vendor room from ten o'clock until three and although there wasn't much on the agenda for the day, our hero was no less busy. Signing this, smiling for that, chatting with all kinds of admirers on and off camera. Didn't want to bug him so I made my way around the room… There was very little space for two-way traffic.
I was talking with the likes of the Lone Ranger, Rooster Cogburn, and John Wayne, and getting their autographs when I felt a hand on my shoulder and a voice in my ear. Don't remember the exact words but about fifteen minutes later Mr. Fuller and I were sitting and chatting about everything from soup to nuts; family, friends, and politics to horse racing and fishing; scuba diving to playing the spoons. Before we knew it, an hour had slipped past. He returned to the dealer room, and I sat there hanging, attempting to absorb everything that had been said, all the while my respect for him deepening.
He'd reminded me that there was a Western Look-A-Like contest scheduled at two o'clock and the banquet in the evening. Indeed there was and the celebrities were the judges. 'Rooster Cogburn' won.
Smarty Jones didn't--alas.
The event was dampened somewhat by the news of former President Reagan's death. His passing was honored with a moment of silence at the beginning of the banquet.
The banquet. I arrived there a little late because I'd sort of gotten caught up in the Belmont Stakes. Everybody was already seated and so the pickin's were limited—and everybody knows how embarrassing seat-pickin' in public can be. I sat in the back with three lovely gentlemen who offered me a vacant spot at their table. Every now and then Mr. Fuller caught me glancing his way and gave me a characteristic grin and wink. I was too excited to eat so I talked. Thankfully, my dinner companions didn't seem to mind. A couple of times he stopped by the table for a quick comment or two.
Following the meal Devon Dawson, a lovely young redheaded cowgirl performed a lively assortment of Western music with emphasis on Dale Evans material, of course. Divinely talented, she played the guitar and sang. Her enthusiasm was apparently contagious for nearing the end of her act; a soft rhythmic clicking of spoons could be heard in the background in the vicinity of the celebrity dais. The occasional head turned to look for the percussion's source. I wouldn't have needed to turn my head to know where the sweet sound was coming from, although of course I wanted to catch the moment and have it burned into my brain! For her final song, "Happy Trails" she invited him to the stage area to accompany her which he did-- very elegantly. Cameras were flashing wildly. Mine too.
So…. sixteen hours of trail dust traded for a few moments with our Adorable cowboy. Worth every minute!
Crazy?
Of course. But, it wouldn't have mattered if I had been there for all four days; the time would have vanished similarly, in a moment. And although the trail home wasn't exactly a flash, shortening the span was a parade of new fond memories, accompanied by the occasional sweet sound of rhythmic clicking spoons.
*"Who cares about the clouds
When we're together?
Just sing a song and bring the sunny weather!
Happy trails to you
Until we meet again!"
(Click, clickety-click clicety-clickety-clickety-click, click click!)
Respectfully submitted,
Amy Mintzer
June 6, 2004
(*) lyrics by Dale Evans
A special note of gratitude to my beta-readers, Carol, Moira and Rachel for their time, energy and creativity! Thanks for keeping me somewhat polished (well you did what you could), focused, and real! You're the best!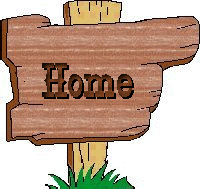 To Site Map